Dr. Murat Üstün was born in Istanbul in 1969. He graduated from Ege University Faculty of Medicine in 1992, which he entered in 1986.
He became a General Surgery Specialist in 1996. Because of SSK Ankara Education and Research Hospital (where he was studying) was the second center place for laparoscopy in Turkey, he had a great interest of it during his entire career.
During this period, he completed HÜFAM-approved Hospital Management and Total Quality Management certificate trainings.
He took an active role in the establishment of a transplantation clinic at SSK Ankara Specialization Hospital between 1996-1999 and worked especially in the field of renal transplantation and laparoscopic surgery. During this time, he decided to focus on advanced laparoscopic surgical techniques and continued his post-specialty training in this direction.
Between 1999-2001, he went to SSK Zonguldak Regional Hospital and established the first laparoscopic surgery unit of the regional hospital. It enabled laparoscopic surgery to be performed for the first time in the region. He carried out modernization studies in the operating room and established the sterilization principles.
He resigned from SSK in 2001 in order to continue his studies in the private sector. He has been working in the private health sector in Istanbul since 2001. During this period, information technology became one of his most important areas of interest. He worked as the project coordinator of DrCAD medical software, which aims to provide online diagnosis support to family physicians in Ankara-based Netcad software company. He managed the endoscopy and laparoscopic surgery unit in Hayat group for about 3 years. During this period, he gained significant experience in the field of diagnostic and interventional endoscopy with over 2000 colonoscopies and around 3500 gastroscopy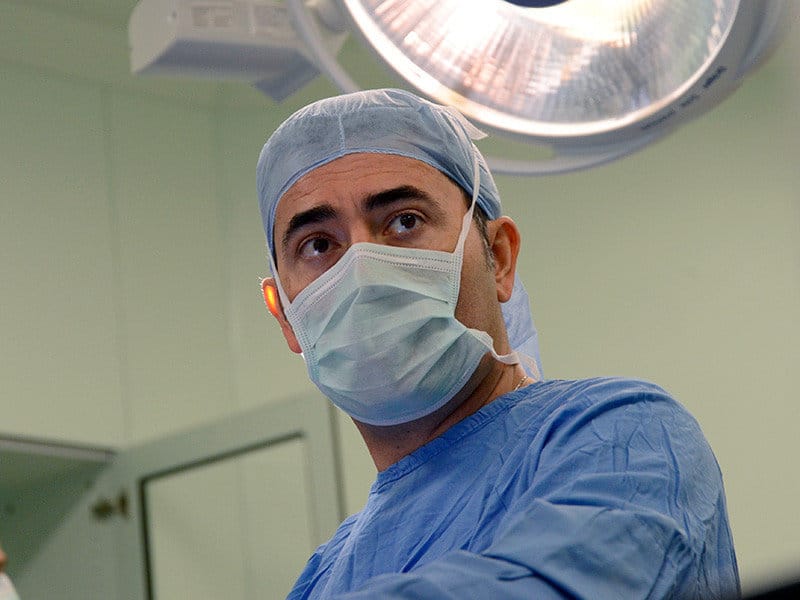 A Lifetime Dedicated to Obesity Surgery
In his private working life, besides endoscopic diagnosis and treatment methods, he was directed to the field of obesity surgery. In 2004, he worked with Dr. Vincent Frering on laparoscopic bariatric surgery in Polyclinique du Beaujolais in France, where laparoscopic cholecystectomy was performed for the first time in the world. Since this year, he has worked in three different centers in France. On his return, he started both endoscopic gastric balloon applications and laparoscopic adjustable gastric band surgeries. After deciding to focus on bariatric surgery, he visited and worked in different centers such as Frankfurt, Vienna, Hamburg, Athens, Madrid and Montreal to increase his experience. He collaborated with Dr Karl Miller, Dr Rudolph Weiner, Dr Robert Ruthledge.
Dr. Murat Üstün personally established and managed many surgical and social sites such as medicorium.com obesity and surgery portal, obezitecerrahisi.org obesity portal, kelepcekardesligi.com stomach band support forum. Between the years 2010-2011, Turkey's first Obesity and Metabolic Surgery Center, he served as Coordinator of the formation. He still works in the private sector.
Many Firsts in Obesity Surgery
In parallel with the decrease in the use of gastric band surgeries in the world, he was among the first few surgeons to apply advanced techniques such as laparoscopic sleeve gastrectomy and laparoscopic gastric bypass in the country. He became one of the leading physicians in his field with his experience in this field and his complication rates at the level of world averages. Therefore, it has become a reference center for complication surgery and revision surgery.
He is the first practitioner of surgeries in Turkey such as laparoscopic gastric plication (gastric plication), endoscopic gastric plication (Apollo), laparoscopic single anastomosis duodenoyleostomy (SADI-S) and laparoscopic gastric loop bipartitition. Apart from obesity and metabolism surgery, his most important professional interest is endoscopic treatment methods. He is the first practitioner of the Esophyx method in our country in the treatment of endoscopic reflux. In addition, he also applies endoscopic reflux treatment methods such as MUSE, GERD-X and Stretta.
The First Workshop in the Private Sector in Obesity Surgery
Believing that knowledge will increase as it is being shared, Dr. Üstün the Key Opinion Leader in the bariatric surgery field of Covidien (now Medtronic) for 6 years, he has been providing bariatric and metabolic surgery training to his colleagues.
Approximately 35 surgeons received training in these 9 workshops and started obesity surgery. During these trainings, many live broadcasts were also performed, one of them achieved an operation record in Turkey with a live broadcast with 8 hours, two gastric tubes, one gastric bypass and one SADI-S surgery were performed during the broadcast period.
Believing that advanced technology will make a great contribution to surgical excellence, Üstün also performed the first use of staples with I-drive battery in gastric sleeve surgery, the first use of V-Loc suture in obesity surgery, the first sleeve gastrectomy surgery with Storz Spies laparoscopy system, the first three-dimensional laparoscopic sleeve gastrectomy surgery. 
Dr. Murat Üstün continues his studies on Obesity and Obesity Surgery in London and Istanbul.
Education
ANKARA EDUCATION AND RESEARCH HOSPITAL
General Surgery Specialization Training
1992 – 1996, Ankara / Turkey
EGE UNIVERSITY MEDICAL FACULTY
Medical Doctor Training
1986 – 1992, Istanbul / Turkey
Treatments Applied
Endoscopic gastric balloon
Endoscopic stomach reduction (Apollo)
Gastric sleeve surgery
Gastric bypass surgery
Mini gastric bypass surgery
Diabetes Surgery
Duodenal Switch
Revisional Surgery
Trainings, Courses and Conferences Attended
IBC Oxford Bariatric Congress, 2019
IBC Oxford Bariatric Congress, 2018
IFSO London, 2017
BEST Brugge, 2016
IFSO Vienna, 2015
BEST Madrid, 2014
IFSO Istanbul, 2013
IFSO Hamburg, 2011
In addition, over 100 national and international congresses
Professional Memberships
Turkish Medical Association
Turkish Surgical Association
Turkish Surgical Endoscopy Association
Endoscopic Laparoscopic Surgery Association
Turkish Obesity Surgery Association
IFSO (International Federation of Surgery for Obesity)
International Bariatric Club
High Tech Surgeons
Turkish Anglo-Saxon Doctors Association
Dr. Murat Ustun is the founder of Istanbul Bariatric Center (IBC) and he is also the one of the most competent bariatric surgeon in Turkey. After graduating from Ege University Faculty of Medicine, he specialized in Ankara Training and Research Hospital and took part in more than 100 national and international congresses on obesity surgeries. Murat Üstün and Istanbul Bariatric Center team perform various medical procedures, including gastric bypass, gastric sleeve surgery, gastric balloon and biliopancreatic derivation with duodenal switch. These procedures, which are performed differently, help the patient to lose weight by limiting the foods taken by the stomach. Surgeries are performed in a Joint Commission International (JCI) approved hospital. Murat Üstün, with his entire staff, attaches great importance to the health and safety of the patient, which is the main goal, and believes that this is a part of the excellence equation.